Graffiti Update #01
Tuesday, September 23, 2014
Heya! I mentioned a while back that I was interested in incorporating graffiti into my work but kept forgetting to post about it, so here goes.
London
August
Learning from Julian 'ArtJaz'. Julian's a friend of an old colleague of mine, who hooked us up. We met up and painted at Leake Street, where street art is authorised (so people go there to learn/practice). Southbank is more known for street art but tends to be busy and touristy, so I'd recommend Leake Street if you want some time to yourself. Saying that, we went on a Monday morning so most places like this would be dead anyway.
It was a fun and slightly alien experience, and wow did my hand/arm hurt for a couple of days afterwards! Spraying with paint cans upright uses completely different muscles to what I'm used to, so I got tired easily. I also found it odd having to move my whole body to follow the lines and maintain a consistent distance to the wall to get better quality lines. Even though the area was empty, I couldn't help but feel overwhelmingly British and reserved/too embarrassed to move much, haha.....eventually you just have to chill and go with the flow...it's almost like dancing.
Check out Julian's work here:
jayspaintshop.
co.uk
He's a really mellow and supportive dude, who often teaches handicapped children or those from underprivileged areas, alongside commercial work.
ArtJaz did the portrait of me whilst I figured out
how to do lettering and use the spray can for the first time!
YQS = "Why Quicksilver?"
Potential tag? I used to be called Quicksilver on the Conceptart.org forums.
Cardiff
September
A few friends and I got together for a workshop with Bradley 'Rmer' Woods, who was referred to me by ArtJaz. We started off looking at books on street art for inspiration and doodling ideas on what to paint. We had a go on the walls, under Rmer's tuition, then painted on boards we could take home at the end of the lesson. It was so much fun!
This was my second attempt at using spray paint. I hadn't bought any paint or practiced in between lessons but I found it way easier this time round and have since bought a few cans. Still wobbly as hell but I'll get there eventually!
Bradley's a nice chap and the lesson was really casual and fun. He does a lot of work in Wales and organises events, such as
Breakin' The Bay
, which took place at Cardiff Bay last month. He'll be doing another one in October but I can't remember what it's called - I'll update this post when I find out.
Check out his work here:
http://rmer1.com/
Rmer sketched our names while we doodled.
We were given a Banana cap each. So hard to get thinner lines!
We had about 30 mins left so I painted something from my sketchbook.
I've bought the same colours (I hope?!), so I'll try and finish this when they arrive.
Airbrush
My bf taught me how to use his airbrush. It's tricky! And involves cleaning. Still, would be nice to be able to use it well for days when I don't wanna pass out from fumes.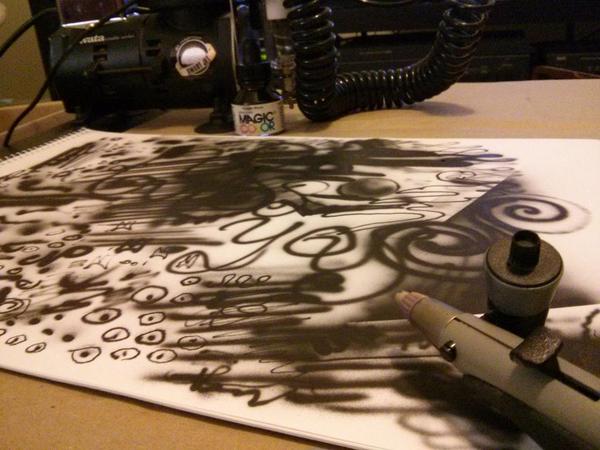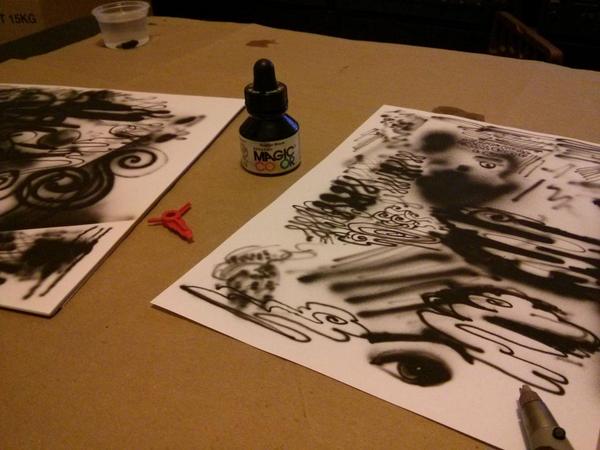 Sketchbook
Again, I'm too lazy to scan so here are photos of my sketchbook. :P
Sketchbook cover.
I used these elements to make a tileable print, shown below:
Samples of prints I've designed and applied to a photo to show it in context.
This wasn't for anything in particular - just personal work...
I wanna paint this up when I have the right colours.
I did a digital version a while back but it looked crap. Will try with spray paint...
That's it for now! My order from
Graff-City
should be arriving today, so I'll post WIPs later this week. :)
Cheers for reading,
Naomi