Pretty Pressies
Wednesday, November 10, 2010
Besides baking treats, occasionally I like to make presents for family and close friends so they can have something more personal and so I can have the opportunity to dabble with something outside drawing to keep me sane! I grew up making things all the time - sculptures, toys, little outfits for my Barbie.....because I had no interest in actually playing with it but liked to design and make clothes for it, hehe. I'm a bit of a nerd for the whole process of planning all the parts and thinking of how to put it all together 'cause it gives my mind a different, more hands-on kinda workout.
I've wanted to post these up for a while but wanted to wait until I gave the most recent present. Also, there might be more lurking about but I'm having trouble finding pictures that are buried somewhere in my laptop. They'll be stealthily added once discovered...
A present to my boyfriend for our first anniversary.......it's an in-joke. :P Excuse the poor photo quality - I'll update it when I get back to his place.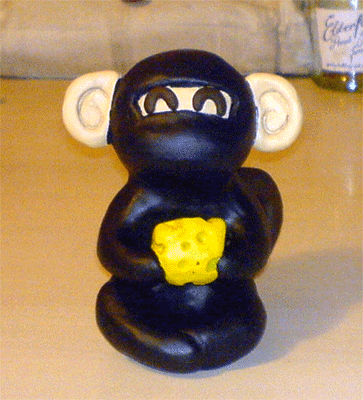 A little graduation present for my friend Ben. I made a pocket-sized Japanese-bound sketchbook with assorted paper and a stamp of his Chinese name on the front cover.
This was for my nephew's first birthday a few weeks ago. He was born in the year of the bull and the design is based on the one I drew on the baby book I made for my sister last Christmas.
Hayley's Masala Chai Set:
I made some masala chai for my best friend one time and she loved it, so I made a tea set for her so she can make it at home. I designed stickers for each pot that contained spices so she'd know what they're called and how much to use per serving. I also designed and constructed the greeting card and instructions.
So that's all I have to share for now. There are more but I can't find the pictures/remember if I took any. Hope you enjoyed looking at them. :) I won't be reproducing these for anyone so they remain unique for the original recipients, so please don't ask!